Phoenix Murano Research on the 2015 Nissan Model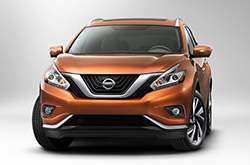 Fully redesigned this year, the
2015 Nissan Murano has a brand-new look based off of Nissan's Resonance concept. The bold, attractive SUV sports a "floating" roof design, sloping windshield, distinct lines and boomerang-shaped headlights that finish off the look. In addition to its exterior enhancements, the Murano also comes with a host of fresh advanced safety features that work to assist drivers and prevent accidents. Check out our 2015 Nissan Murano review below to discover information about each of these components and other outstanding amenities available on this year's model.
The carefully crafted 2015 Nissan Murano in Phoenix is one of the most beautiful SUVs on the market today. Its new design creates an inviting cabin that can be compared to a social lounge, which comes equipped with comfortable NASA-inspired Zero Gravity seats. The interior's laidback styling allows passengers to sit back and enjoy the ride, while the car's collection of safety features, including blind spot warning, rear cross traffic alert, moving object detection and forward emergency braking, work to provide top-notch protection at all times.
Aside from the Murano's interior materials and advanced technology components, it comes with a 3.5L V-6 engine. The latest variant allows the SUV to output an impressive 260 horsepower, which is supported by a continuously variable transmission. Nissan currently expects the Murano to deliver 20-pecent better fuel economy than last year's model, which produced an EPA-estimated 20 mpg combined. This improvement can be attributed to the 2015 Nissan Murano in Phoenix's weight reduction and powertrain enhancements, which are featured on all models.
If you'd like to acquire more information about the all-new Murano and its extensive collection of standout amenities, keep reading our 2015 Nissan Murano review below for complete details. Also, be sure to check out our 360-degree video review for an up-close look at the SUV's attractive design.