Tires are one of the most important components on your  vehicle, and having them inspected on a regular basis is necessary to keep them  in good working order. Misaligned, worn out and improperly inflated tires can  severely damage your  new Nissan Altima, Maxima or other make/model. Even worse, faulty tires could  put you and your family's safety at risk.
When to Have Your Tires  Checked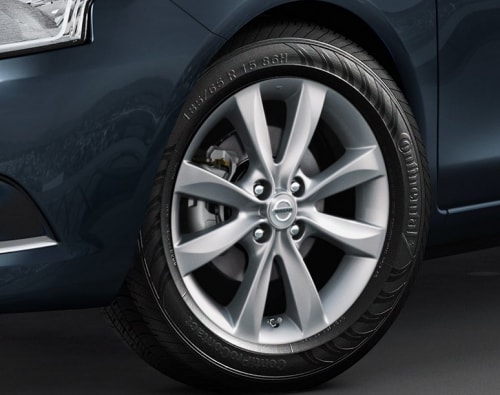 We recommend having your tires inspected every time you  bring your vehicle into our onsite service center for routine car services - at  least every three months or 5,000 miles. During the time between your regular  service intervals, make sure to routinely inspect your tire pressure. Having  too much or too little air in your tires can cause them to prematurely age,  forcing you to buy new ones sooner, so do follow your Nissan's owner's manual  for recommended psi tire inflation.
Additionally, it's imperative to have your tires regularly  rotated. We also recommend having this done every 5,000 miles. Getting routine  tire rotations in Phoenix will help you get the most out of your tires, as it  helps to achieve even tire wear.
It's also wise to have your tires aligned at least once a  year. Here a few ways to determine if your new or used car, truck or SUV needs  an alignment:
 
Off  center steering wheel
 
Steering  wheel vibration
 
Vehicle  pulls to one side
 
Uneven  tread wear
Signs Your Vehicle Needs Tire Repair Near Phoenix
There are many ways to tell if the tires on your car, truck  or SUV are in trouble. From time to time, you will have to add air into your  tires. However, if you are frequently having to refill them, it will most likely  mean there is a leak.  
  Another indication that your tires are in need of attention  is by looking at their tread. The easiest way to determine if your tires are  too bald is by performing an old trick known as the Penny Test. Simply take a penny  and insert Abe's head (downward) into the tread. If his entire head is visible,  your tread is in serious trouble and you will need to bring your vehicle in for  new tires. Here are some other ways to tell if you tires need attention:
 
Visible wear  indicator bars
 

These are flat running bars that run  perpendicular to the direction of the tread. If you see more than one of them,  the tread is getting very low.
 
Check  Sidewalls  
 

Look for cuts or tracks in the sidewall. These  could signal that your tire is developing a leak or is ready to blow out.
 
Tire  Bulges & Blisters
 

These appear as bumps usually on your tire's  sidewall. Weak spots like these can also cause a sudden blowout.
 
Vibration  While You Drive
 

This can mean a number of things, including misaligned  and unbalanced tires. It can also indicate internal tire problem.
Why Bring  Your Car to Us for Tire Repair/Replacement?
For years, Valley drivers have been coming to ABC Nissan for tire repairs and  replacements. Our team of factory-trained service technicians will provide you  with outstanding customer service and high-quality car care. Our  state-of-the-art service center also features some of the latest equipment to  help you get back on the road as quickly as possible.
If your tires simply cannot be fixed, we'll  replace them with new ones. We offer a variety of top-of-the-line tire brands  like Hankook, Michelin and many more at very affordable prices. Schedule your online  service appointment today!