Review the 2016 GT-R from Nissan Dealer in Phoenix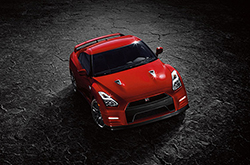 Celebrating 45 years of exceptional performance, the Nissan GT-R returns this model year with a special Gold Edition model and premium performance capability that carries on this supercar's legacy. With exceptional speed and luxury comfort built into its DNA, the 2016 Nissan GT-R in Phoenix is a superlative choice that you'll be proud to flaunt around town or on the track.
Mobilizing this mega-performer is a handcrafted, 3.8L twin-turbocharged V6 engine rated at an impressive 545 horsepower and 463 lb-ft of torque. For sports car enthusiasts, the estimated maximum speed of 196 mph means limitless potential and extra power, while the dual-clutch six-speed transmission with driver-selectable modes means extra agility and driver control. Plus, 2016 Nissan GT-R reviews are sure performance aficionados will marvel at the incredibly capable GT-R NISMO that delivers an astonishing 600 horsepower and 481 lb-ft of torque when put to the test. A limited availability model built for aerodynamic excellence, the top-of-the-line NISMO trim features a racing-tuned suspension, carbon fiber accents, an ergonomically sculpted cockpit and increased body shell rigidity. Adding to the NISMO, Premium and Black Edition models round out the GT-R lineup, all offering their own flair and craftsmanship.
Changes to this year's GT-R come in the form of a recalibrated suspension, enhanced exterior accents and well-appointed interior modifications. Onlookers will be stunned by the LED headlight technology and distinctive front and rear designs, while you'll enjoy the standard Bose Active Noise Cancellation system that comes standard on the Premium and Black Edition trims. For even more driver comfort, Nissan also included a special Bilstein® DampTronic driver adjustable shock absorber system and Brembo® monoblock six-piston front- and four-piston rear calipers on all 2016 GT-R performers.
Inside, the 2016 Nissan GT-R in Phoenix provides a sleek, upscale cabin with plenty of state-of-the-art technologies. The standard 7-inch touchscreen navigation and entertainment system is met with a Bluetooth hands-free system, premium leather-appointed seats, an 11-speaker audio system with dual subwoofers, DVD video playback capability, an elite instrument panel and a top-tier security system.
An additional aspect limited to the 2016 model year is the Gold Edition GT-R based off the Premium trim. Built to honor the GT-R's impressive 45-year history, the Gold Edition showcases a special gold paint color and a special commemorative plaque.
A polished supercar built to perform, the new Nissan GT-R is available in Phoenix today. Want extra information about this outstanding sports car? Check out the rest of our 2016 Nissan GT-R review below or contact our dealership today!