ABC Nissan's 2015 Xterra Review and Research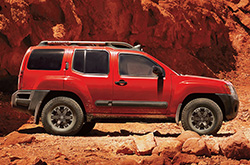 Most of the world is unpaved. That's no problem if your life is contained within the narrow confines of asphalt strips that lead back and forth between the office and home. A crossover is just dandy for an eight-to-five, carpooling, meatloaf on Tuesdays, weekend soccer practice lifestyle. There's nothing wrong with that, but you should know there is more. 2015 Nissan Xterra reviews agree this is the vehicle that can take you anywhere you want to go and get you back.
If the terms "approach angle" and "breakover" are part of your lexicon, then the Xterra is already on your radar. With more than nine inches of ground clearance on 4WD models, a tall and narrow body and big beefy tires, the Xterra is built for the rugged world of off-roading. Yeah, this is the off-roader they send to rescue the other "off-roaders" when they get stuck.
Equipped with a robust 4.0-liter V6 with 261 horsepower and 281 lb-ft of torque, the Xterra can tow a respectable 5,000 pounds. This baby is optimized for truck duty, with good pulling power and off-the-line acceleration.
Climb into a 2015 Nissan Xterra in Phoenix. Notice the durable upholstery, extra storage spaces, tie-downs for gear and easy-to-clean surfaces-borrowed from the Frontier pickup-making it look and feel just as rough and ready as the SUV's exterior. Close your eyes and take a deep breath. That's not new car smell - that's the scent of adventure.
Standard safety gear includes front active head restraints, four-wheel anti-lock brakes, stability control, and side-curtain airbags. Xterras with automatic transmission also include Hill Descent Control and Hill Start Assist to enhance stability. PRO-4X models come with a rearview camera system.
This mountain lion can also prowl the pavement. The suspension doesn't let the tall body lean too much in corners, and the steering offers good feedback, too. The beefy V6 packs plenty of power for merging and passing.
When adventure calls and you find yourself more interested in mastering a mountain than meandering to the mall, come see the 2015 Nissan Xterra in Phoenix at ABC Nissan. Learn more as our 2015 Nissan Xterra review continues below.