Phoenix Dealer Researching the New Pathfinder Pathfinder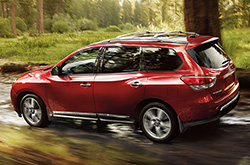 If the demands of your busy life can be met by an all-purpose vehicle that will seat seven or reconfigure to take on a large amount of cargo, we highly recommend the 2015 Nissan Pathfinder in Phoenix. Refined handling, a powerful engine that delivers class-leading fuel economy and a comfortable interior cabin are all big pluses in the "pro" column for this urban SUV. We find agreement among industry experts like automotive analysts for Kelly Blue Book who stated in their 2015 Nissan Pathfinder review: "We have nothing but praise for the Pathfinder's V6 engine, which offers both impressive power and fuel economy." The new Pathfinder has taken on extra state-of-the-art safety technology this year and has added a program that psychologically enhances the driver's perceptions of its CVT - mimicking the feel of a limited speed transmission while toning down the CVT's whine. So drivers get the best of both worlds with: enjoying the efficiency of a continuously variable transmission without having to adapt their psyche to CVT idiosyncrasies.
What can you expect when shopping the new 2015 Nissan Pathfinder in Phoenix? You'll find the ability to choose between front-wheel and intelligent all-wheel drive. While the Pathfinder has morphed over the years from an off-road style vehicle to one that appeals to a more urbane crowd, it does still offer some road-grabbing ability that will make you feel better about driving through those monsoon season gully-washers. Semi-rugged off-roading is also still an option for those who haunt the orchard roads, out-of-the-way ranch roads and desert pathways that are still found around Phoenix satellite communities. The 2015 Pathfinder is much more about pampering its occupants however, with even the base model serving up three-zone automatic climate control to keep all passengers happy in their own comfort zone.
As our 2015 Nissan Pathfinder review continues, you can learn all about Pathfinder's standard and available features and perks in the video tour, and even see the Pathfinder's vital statistics matched up against competing vehicles in SUV comparisons generated by the Dare to Compare tool you'll find below.