Take a Look Phoenix Nissan Shoppers - the NV Cargo has Arrived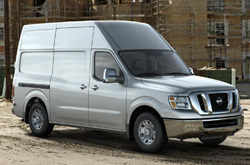 For decades now, Nissan has been producing and selling commercial vans around the globe. While we may think of Nissan vehicles as imports, many, including the NV Cargo and NV Passenger Van, are assembled here in the United States at Nissan North America facilities. We'll be exploring the new lineup of Nissan vans in our 2015 Nissan NV review for ABC Nissan shoppers in Phoenix.
The new lineup of 2015 Nissan NV Vans in Phoenix provides an incredible selection depending on your utility needs, from the full-sized NV 1500 Cargo Van with its efficient V6, to the heavy duty NV 2500 and 3500 Cargo Vans with V6 and V8 options, all of which offer cargo capacities ranging from 234 cubic feet in the standard van to 323 cubic feet in the high-tops. Payload capacities range from 2,758 pounds to about 4,000 pounds in V8-powered NV3500. If more is needed, you can tow up to 9,500 pounds in properly equipped NV HD vans. You'll find all Nissan NV cargo vans to be pre-wired for commercial upfitting.
If moving people is your mission, the full-sized NV Passenger Van seats up to 12 and has V6 or V8 engine options. Nissan passenger vans can be trimmed with all manor of convenience and entertainment features so you'll be able to find the best route to get your passengers to their destination on time and entertain them in the process.
If your needs are smaller, and you desire a lower initial investment for moving your product or offering mobile services, have a look at the new 2015 Nissan NV200 in Phoenix at ABC Nissan. The NV200 utilizes a four-cylinder engine and continuously variable transmission that gets the job done with a conservative approach to delivery and mobile service which focuses on low operational costs.
Our 2015 Nissan NV review continues below, but we'd like to encourage business fleet managers to contact our ABC Nissan commercial vehicle department here in Phoenix about upfitting any 2015 Nissan NV for a specific commercial use.