About the Nissan Leaf in Phoenix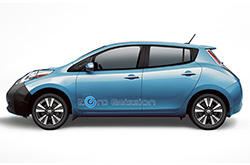 The 2015 Nissan LEAF reemerges on the scene this year with a series of fresh components. The latest model comes with a variety of newly available exterior and interior features that boost the car's appeal and deliver a greater driving experience. Aside from these additions, the 2015 Nissan LEAF in Phoenix also comes outfitted with a sophisticated electric drive system that produces ample power at all times. To learn more about the powertrain and the car's brand-new features, read our comprehensive 2015 Nissan LEAF review below for more information.
Back again, the popular Nissan LEAF debuts on the market with select enhancements on each trim level. The LEAF S now comes with more aggressive regenerative braking, which is available through a new standard "B-Mode" option. Both the SV and SL grades have also been updated with voice destination entry and hands-free text messaging. The SV model gains standard 17-inch aluminum-alloy wheels as well, improving the car's appearance and driving dynamics. Additionally, all models receive a brand-new exterior paint option: MorningSky Blue, to top off their color palette.
Giving the Nissan LEAF its power is an 80-kW electric motor and 24 kWh lithium-ion battery pack. The pair work together to deliver 107 horsepower and 187 lb.-ft. of torque, while producing an EPA-estimated 84-mile driving range. The 2015 Nissan LEAF in Phoenix also has the ability to go from zero to 60 mph in 9.9 seconds, which is a decent time for an electric car. The EV comes with three unique settings: Normal, Eco-Mode and the aforementioned B-Mode as well, allowing drivers to optimize their driving experience.
Need more details about the Nissan LEAF and its full collection of incredible features? Continue reading our 2015 Nissan LEAF review for additional facts, exclusive pics and engine spec information.