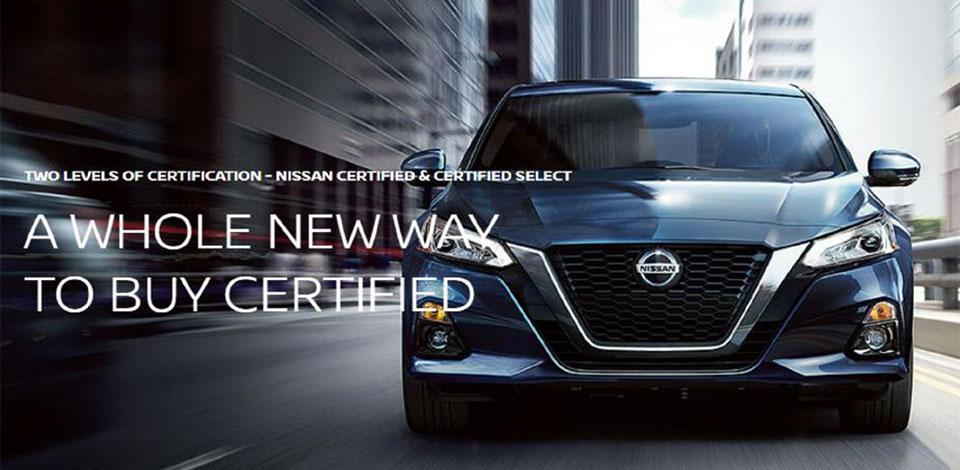 Nissan has enhanced its Certified Pre-Owned (CPO) program. It includes several vehicles to make the buying process easier for consumers. The Certified Select program now includes Nissan and select non-Nissan pre-owned cars. They must be up to 10 years old and have up to 100,000 miles on the odometer. The vehicles are listed on Nissan@Home. It is the company's online shopping portal for 24/7 online buying. It allows customers to browse and purchase cars at their convenience. Besides the new program, Nissan is also offering free pre-paid maintenance. The visits are for all CPO buyers. It builds stronger relationships between dealers and consumers.
It also underscores Nissan's commitment to customer satisfaction. Do you want more information on the Certified Select program? You can browse the selection of eligible vehicles by visiting NissanUSA.com.
Nissan's Certified Pre-Owned Program is Expanding
Nissan has expanded its Certified Pre-Owned program. It will cover high-quality used vehicles.
These vehicles will be available for consumers to purchase and research online. The new program is called Certified Select. It extends the mileage and age eligibility for your car. The Certified Pre-Owned certification provides customers peace of mind when purchasing a vehicle.
For the first time, the Certified Select program includes non-Nissan vehicles. It is excellent news for consumers who may not have a Nissan. They want the peace of mind that comes with a certified pre-owned vehicle.
When you buy a Certified Select pre-owned vehicle, you get more than just a great car. Each vehicle receives a rigorous 84-point inspection. It comes with a 6-month/6,000-mile limited warranty.
It also has roadside assistance. You'll get one complimentary maintenance visit. It comes within the first year of owning your vehicle. The commitment to quality is one of the reasons that pre-owned vehicle sales continue to rise. They are outpacing those of new cars in the marketplace. Certified Select allows our trusted dealership to offer more high-quality options for shoppers.
Nissan has been offering an online shopping program for its vehicles. It has been around for a few years now.
The program has been a success. It has more buyers becoming comfortable with purchasing vehicles online. Nissan reflected the trend and made the process even more convenient for buyers. Nissan has announced a new initiative. Buyers can browse dealers' selections of certified and certified select vehicles online.
Customers may complete the entire purchase process virtually. It includes delivery of the vehicle to their home.
Participating dealers can deliver purchased cars to a customer's home.
Visit Our Dealership in Springfield, MO
Are you interested in learning more about the CPO program? Visit our dealership in Springfield, MO. We can tell you all about the program and help you find the perfect car for your needs.