A luxury Nissan sedan with its own concierge? With the debut of the 2019 Altima Edition ONE, that level of service could be your everyday reality. Completely redesigned for the new model year, this exceptional Altima is now available for online reservation. Just 3,900 of these large luxury sedans will be produced, so don't delay. Here's what makes the Edition ONE such a special edition to the Nissan lineup.
The Edition ONE is Nissan's first all-wheel-drive sedan equipped with a turbo-four that gets 248 horses. This fully-loaded version of the Altima includes the sedan's full suite of comfort, tech, safety, and convenience features, such as leather seats, a moonroof, and Bose premium audio. Nissan's ProPilot Assist semi-autonomous advanced driver-assistance systems are also included in this model.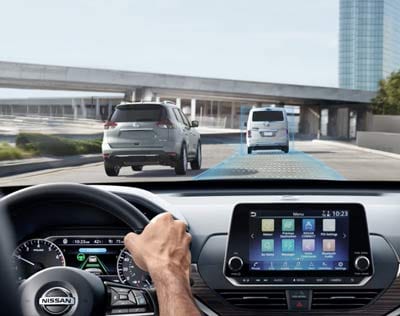 This limited edition 2019 Altima is distinguished from the other models in the lineup by its rear spoiler, 19-inch wheels in dark gray, special Edition ONE badging, ground lighting, and side sill illumination. Drivers can opt for either red, white, or black exterior paint.
Your Edition ONE purchase comes with three years of the exclusive Nissan Concierge service. With this cutting-edge technology, you can buy tickets, make dinner reservations, get your flight status, and find out pretty much anything else. Nissan Concierge offers both voice and touchscreen commands and is powered by Amazon Alexa.
Drivers who reserve the 2019 Altima Edition ONE will also receive their choice of free gift: an Amazon Echo device with a membership to Amazon Prime; a Bose Soundlink Resolve+ speaker, an Amazon Echo Dot, and Amazon Prime membership; or an Apple Watch.
Learn more about the Edition ONE and test-drive the all-new 2019 Altima today at ABC Nissan. We're excited to tell you more about this next-generation luxury sedan.